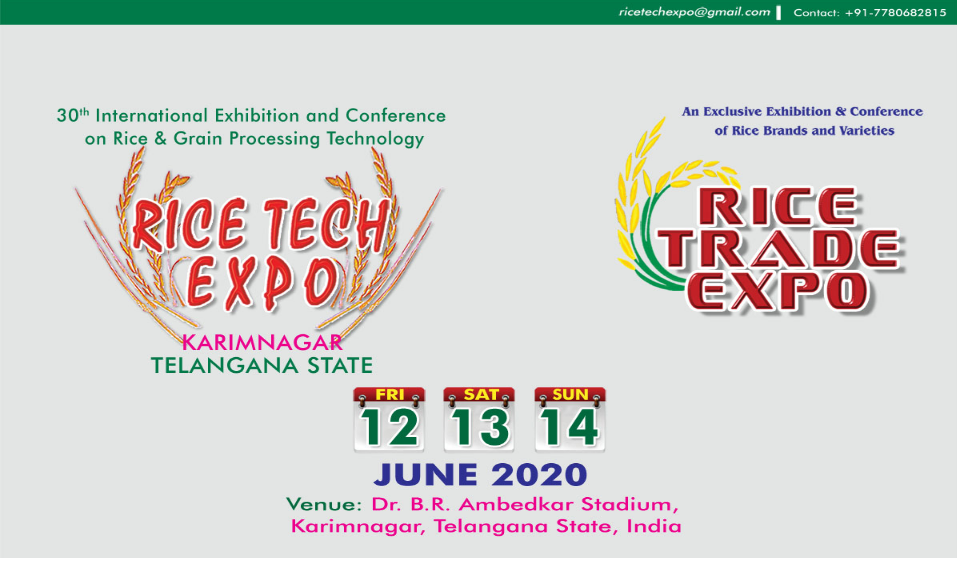 About Event
Rice Tech Expo-Karimnagar will take place on 12-14, June 2020 at Dr. B.R. Ambedkar Stadium, Karminagar, Telangana State, India. This expo is a meeting ground for foodgrain processing equipment manufacturers, suppliers agents and millers, end users in the Rice & Grain processing sector.
Launching new Brands, Products and Technologies are the highlights of this event. Exhibitors in large no. from Sri Lanka,India, China, Japan, Korea and many other Nations will be displaying their products and around 10,000 trade visitors are expected from Rice, Pulses, Dall, Spices and oil seed processing industries.
Make the Right Investment
Rice Tech Expo presents the finest marketing opportunity to grow your business in South Asia. Hundreds of companies have greatly benefitted at Rice Tech Expo Exhibitions in India, Bangladesh & Sri Lanka organized by Shiny Group. The show puts you in direct touch with your customers, most importantly, in active buying mode.
If you are a supplier to the Food Grain Industry, make the right move of investing to exhibit at this event.
Rice Tech Expo presents you the best opportunity to stay ahead in business and of your competition.
Exhibitors Profile
Rice, Grains, Cereals, Pulses, Spices & Oil Seeds Cleaning, Grading, Colour Sorting and Milling Technology
Parboiling plants
Boiler & turbine
Packaging Machinery & Equipment for all types of Grains
Air compressor
Abrasive wheel
Grains storage and Silos manufactures
Rubber roll & V-belts
Bag closing machines
Lab equipments
Electric Panels
Dryers
Weighing scales/bridges
Generators
Roofing system & Insulation providers
Electric motors
Digital Temperature Controller & Data Loggers
Wrapping, Sealing & Lamination Equipments
Feed Machinery & Equipments
Vegetable Oil & Fats Manufactures
Tarpaulin manufacturers
Pumps and valves manufactures
Perforated sheets

Pollution controlling equipment manufactures
Post Harvest Technology
Heat exchangers
Energy transmission/gear boxes
Solvent extraction plants
Thread manufactures
Financial & Insurance institutions and Banks
Warehousing Technologies & Facilities
Water treatment companies
Elevators, conveyors manufacturers
Bio Energy & Waste Management
Packaging machinery & material manufactures
Pre-engineering building manufactures
Food Products : Rice/ Spices/ Pulses/ Cereals/ Wheat Products/ Oil Seeds/ Milled Products/ Namkeen/ Corn Flakes/ Chips/ Health Products/ Tea/ Coffee/ Cocoabean/ Soyabean Products/ Noodles/ Pasta/ Vermicelli/ Wheat Flour/ Maida/ Sooji/ Dalia/ Wafers/ Cones/ Roti/ Corn Flour/ Cooking Oils/ Biscuits/ Cookies/ Cracker/ Bread/ Snacks/ Macaroni & Other Processed Agri & Food Commodities etc.
Bakery Products & Inputs
Automation & Software solution providers
Mill Store & Fabricators
Banks & Financial Institutions
Visitor's Profile
Rice, Dall, Pulses Mill Owners, Rice & Grain Buyers and Exporters, Food Processors, Feed Manufacturers, Solvent Extractors, Mill Operators, Biscuits & Bread Manufacturers, Purchase Manager of Super Markets, Snacks Companies, Oil Millers Distributors & Agents, CEOs and Chief Engineers, Rice & Grain Importers & Exporters, Warehouse Owners, Trade Analysts, Trade Commissioners & Consultants, Research scientists and technologists, Govt. Officials, Food Retail Chains, Ware houses, Farmers & Agri Entrepreneurs, those who are directly or indirectly related to the Rice & Grain Processing & Technology sector.
Event Name: Rice Tech Expo-Karimnagar
Date: 12-14, June 2020
Venue:  Dr. B.R. Ambedkar Stadium, Karminagar, Telangana State, India
Contact on below addresses for stall booking:
Telephone: 91-7780682815, (040) 27503030
Email: ricetechexpo@gmail.com